Terence Donovan photographed everyone from Princess Diana to Sean Connery and models such as Jean Shrimpton and Naomi Campbell. In the process, the son of a lorry driver from East London became a self-made millionaire and one of Britain's most influential photographers.
A naked, slightly startled Julie Christie. A groovy looking Jimi Hendrix. A wide-eyed Twiggy, posing against a Union Jack Flag…
All the work of Terence Donovan.
Along with David Bailey and Brian Duffy, Donovan revolutionized the world of fashion photography in the '60s. The trio dubbed the "Black Trinity" by photographer Norman Parkinson, captured "Swinging London" and were three of the most important photographers of their generation.
Donovan also directed commercials (over 3000 of them), documentaries, and music videos including Robert Palmer's, Addicted to Love.
With a career spanning four-decades, Donovan produced some of the most famous images in British fashion history for magazines such as Vogue, Elle, Nova, and Harper's Bazaar.
He was a photographer's photographer. All his work was so powerful I could not choose one outstanding image. It was all brilliant. He was an Orson Welles of photography, in every way, in stature, and in his presence.

David Bailey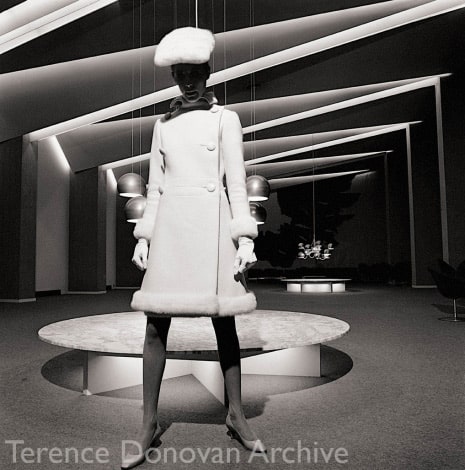 Terence Donovan Biography
Nationality: English
Genre: Fashion, Advertising, Portraits, Nudes
Born: 14 September 1936
Died: 22 November 1996 (60 Years Old)
Early Life
Terence Donovan was born in Stepney, East London in 1936. The only child of a working-class family, his father was a lorry driver, his mother a department store supervisor.
He left school at 11 and started a part-time apprenticeship in lithography, studying blockmaking at Fleet Street's London School of Engraving and Lithography.
Born in the East End, I spent most of the war in the cab of a large lorry traveling around England with my father. I went to about 10 different schools because we were moving around so much, and then I decided to become a chef. I tried very hard to get into the School of Cookery in Vincent Square. But that didn't work because I was too young. So as the only respectable job other than lorry driving or professional soldiering in our family was that of Uncle Joe, who was a lithographer, I decided to become a lithographer.

Terence Donovan
Enter Photography
For a while, it looked as though lithography would be his chosen career. That all changed though when he discovered photography after joining the photographic department of a Fleet Street blockmaker when he was 15.
The excitement of creating pictures, developing the film, and watching an image emerge from a blank sheet of paper, began to possess him. Not long after he changed careers.
He first worked as a photographic assistant to Hugh White and Michael Williams at Fleet Illustrated, where he stayed until he was called up for national service.
Two years later, after completing his service, he joined the John French Studio, one of the leading fashion photography studios of the time.
Donovan was keen to learn and wasn't afraid of hard work, assisting everyone from Michael Williams to John Adrian and, finally, the legendary John French.
Professional Photography
In 1959, after working a year as an apprentice for John French, Donovan set up his own studio in Yeoman's Row at the age of 22. His time with John French had been a great learning experience, but the ambitious young photographer was determined to go out on his own.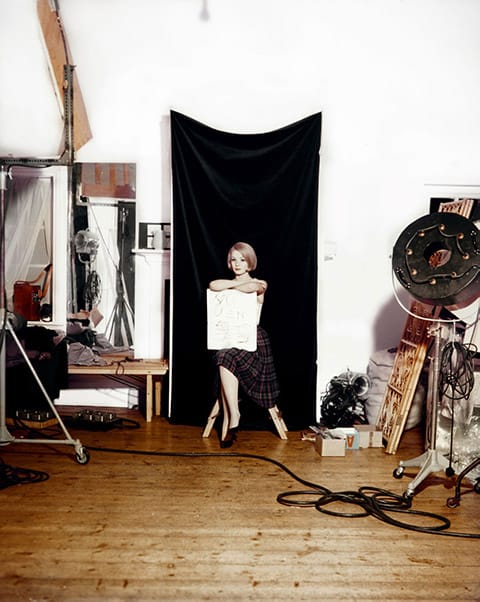 Business was slow to start with – his first commission was a still life of a sponge cake – but his daybook was soon filled with jobs from the likes of Vidal Sassoon, Sketch magazine and the Sunday Times.
Town Magazine
One of his first contracts was with Town magazine. For a story on men's suits published in 1960, Donovan used the gasworks and industrial settings of the East End of London where he grew up.
It is not so long ago that the only way you photographed a man was on a shooting stick in Regents Park. So I thought, right, we'll get on to this. We'll go to the gas works.

Terence Donovan
Donovan experimented with his style and pushed what was deemed acceptable by magazines, often using 35mm film cameras and a long lens for his location shoots. This started a new trend for photoshoots in gritty urban environments.
It was working for Town, that really got me started and got me a name.

Terence Donovan
His pictures were edgy for the time: they were grainy, with dark shadows and high contrast and full of character. He juxtaposed the soft with the hard, the luxurious with the everyday.
It was a strategy in picture-making that he would adopt time and time again throughout his career.
His gritty and noir style was more reportage than fashion photography, and unlike anything that had been seen before.
The Spy Series
His photos looked like film stills rather than fashion photographs. So much so that the producers for James Bond, auditioned one of his male models for the role of Bond before casting Sean Connery. His series of spy photos pre-dated Bond by a year.
With his reputation on the rise, Donovan attracted new clients from the advertising world as well as the leading fashion and lifestyle magazines of the day such as Vogue, Elle, Queen, and Marie Claire.
However, it was until the mid-'60s when Donovan came to prominence.
The Swinging London
In 1973, Cecil Beaton dubbed Donovan, David Bailey, and Brian Duffy as "The Terrible Three". Their photos were raw and edgy, the opposite of the formal, static, and set up photos in magazines of the time.
Donovan along with Bailey and Duffy, captured, and in many ways helped create, the Swinging London of the 1960s: a culture of celebrity chic and high fashion. Their photos started a revolution in photographic thinking.
But the enduring legend of the Swinging London photographer wasn't created on the pages of the fashion magazine, but instead at the movie theatre with the film, Blow Up – a mystery story with a London fashion photographer as the central character.
After the release of the film in 1966, every fashion shoot would be seen as a reason to party: free drugs, free sex, and free-thinking.
The trio socialized with actors, musicians, and royalty, and found themselves elevated to celebrity status. Together, they were the first real celebrity photographers, becoming just as famous as the people they photographed.
While photographically Donovan was in sync with Bailey and Duffy, his lifestyle was a different story. Donovan didn't smoke, was tea-total, and was a zen Buddhist.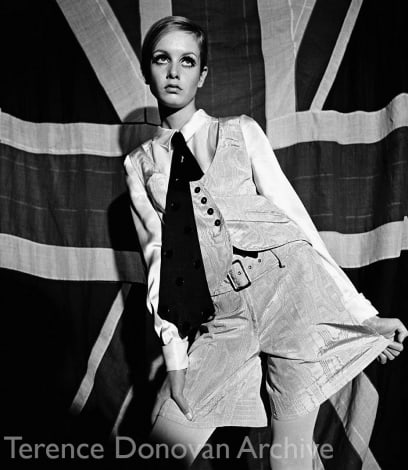 Advertising and Motion
In the early Seventies, Donovan – now a half-forgotten sixties hero – decided to focus on advertising work and branch out into motion.
His foray into feature filmmaking was unsuccessful. In 1972, he made Yellow Dog, a movie about a Japanese spy in London.
Donovan also directed plays, documentaries, and music promotional videos over the decade.
The money was great, but his love was photography.
Prominent figures such as Margaret Thatcher and Princess Diana continued to seek him out in the hope that his photographic alchemy would still work wonders, it always did.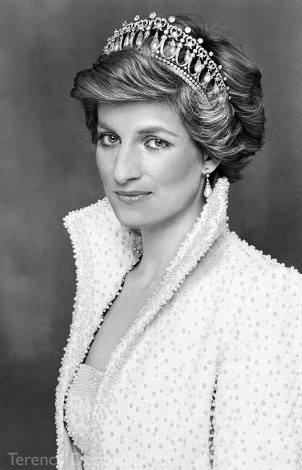 One of his great talents was he could talk anybody into doing anything. There's the famous story of Princess Diana. She was nervous and he said, 'Don't be nervous,' and he took a £20 note out of his wallet, waved it in the air and said, 'Smile at mother-in-law. She did. He got the picture. He'd get many more.

David Hillman
By the early '80s, most of Donovan's time was spent making television commercials and shooting campaigns for clients. Occasionally he did fashion editorials for magazines and newspapers, but it was clear that fashion had taken a backseat to the lucrative world of advertising.
A lot of his friends felt that Donovan compromised his artistic integrity with so much commercial work. He always insisted he was a craftsman, not an artist.
Music Videos
For much of the '80s and into the '90s, Donovan continued to move away from editorial photography, having found his talent for directing commercials and music videos in a time when budgets were almost limitless.
Donovan's most memorable music video was for Robert Palmer's song Addicted to Love (1986) which earned him a nomination as one of Vanity Fair magazine's "People of the Decade" in 1989.
Over 30 years later the iconic video remains relevant.
In the video, Palmer fronts a band flanked by five stunning models on guitars. With over 64m views on YouTube (as of the writing of this article), it has been parodied by Weird Al Yankovich and had the reverse treatment from Shania Twain.
When I did my 900th interview about that Robert Palmer video Addicted to Love someone asked me where I got the idea from and I said, 'I did something rather odd… I thought of it!' It seems to be a rather old-fashioned thing to do.

Terence Donovan
Later Career
By the mid-90s, Donovan was a senior figure in British photography, a fellow of the Royal Photographic Society, and a photographer to the Royal family.
Though Donovan had many interests, his passion for photography remained constant throughout his forty-year professional career.
I was always much more interested in doing the thing than being the thing. I was much more interested in photography than being a photographer.

Terence Donovan
It didn't matter how busy his schedule was, Donovan always found time to meet amateurs at local camera clubs.
In 1974, he spoke to a group of photography students at Manchester Polytechnic. He told the students never to work for an employer but instead "find something you want to do and get someone to pay you to do it."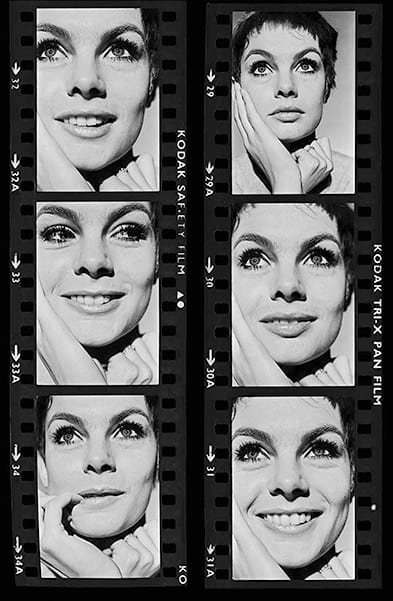 In 1963, he told Jean Shrimpton, "photography fascinates me. Instant fascination every time. When the fascination leaves me, I'll give it up."
As it never did, neither did he. He continued to photograph at his Chelsea studio until his death in 1996.
He was one of the great British photographers and on a par with Irving Penn in America.

Antony Armstrong-Jones (Lord Snowdon)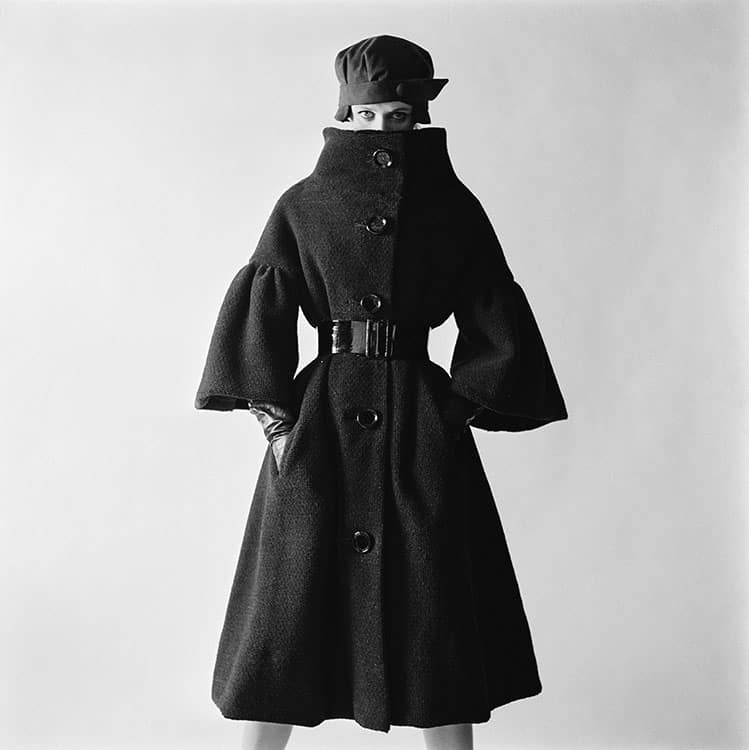 Judo and Buddhism
Outside of photography, Donovan was a keen Judoka and a Zen Buddhist. He became fascinated with everything Japanese after watching Akira Kurosawa's Seven Samurai for the first time as a teenager.
After work, Donovan would head to Budokwai his Judo club in London, eventually rising to the rank of black belt. In 1985, he combined his two passions and photographed the images and co-wrote the instructional book, Fighting Judo with former World Judo Gold medallist Katsuhiko.
In Judo there is no shield, no Armani overcoat to hide behind. There is immediate physical contact. You learn about yourself when you are faced with an enormous ginger-haired bloke with every other tooth missing, salivating at the thought of pushing you straight through the mat.

Terence Donovan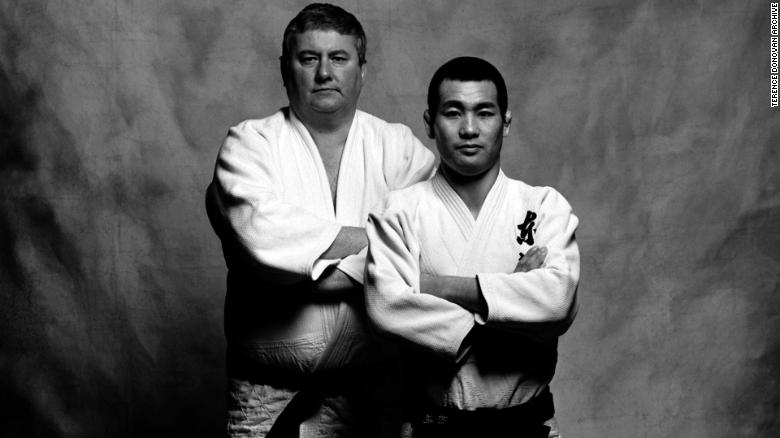 Legacy and Death
Donovan's suicide in 1996 came as a surprise to everyone. His death – the result of depression – was attributed to the side effects of the steroids he was prescribed to treat a skin condition.
Donovan married twice. His first marriage to Janet Cohen was short-lived, his second marriage to Diana Dare would last until his death. Donovan had three children: Dan Donovan (musician), Daisy Donovan (television presenter), and Terry Donovan (co-founder of Rockstar Games).
After 40 years of working as a photographer, he left behind an archive of around a million images.
He published only three books in his lifetime: Women Throooo the Eyes of Smudger Terence Donovan (1964); a book of erotic nudes, Glances (1983), and Katsuhiko Kashiwazaki's Fighting Judo (1985).
Terence Donovan photographed the 1987 Pirelli calendar. The ground-breaking calendar featured only black models, which included a then 16-year-old Naomi Campbell at the start of her career.
Donovan joined the Royal Photographic Society in 1963, gaining his Associate in 1963 followed by a Fellowship in 1968.
Shortly before his death, he was appointed a Visiting Professor at Central St Martins School of Art.
His photos of Diana, Princess of Wales, are included in the permanent collection at the National Portrait Gallery, London.
What Camera Did Terrence Donovan Use?
Donovan used many brands of cameras over his lifetime, often experimenting with different cameras and lenses.
From the early '70s, he favored the Pentax 6×7 camera but still used 35mm cameras. In terms of lens focal length, Donovan used everything from a wide-angle lens to zooms to telephoto lenses.
For portrait commissions, he mainly used the Pentax 67 165mm f2.8 and Pentax 67 105mm/2.4 (these lenses are the equivalent of around 85mm and 50mm in 35mm format).
Watching videos of Donovan, I've seen him use also use an Olympus OM4TI, Nikon F, and Hasselblad. It is also reported that he used Pentax (K1000, MZ-5) and Canon EOS 1 cameras.
Donovan used medium format and 35mm film for his work. Early in his career he also used large format. He used Kodak films for both his black and white (Tri-X Pan and Plus-X) and colorwork (Ektachrome).
Donovan always considered himself a craftsman and would learn everything possible about cameras systems. While most photographers would hand their film over to the lab and printers, Donovan continued to print his photos himself and loved the process of working in the darkroom.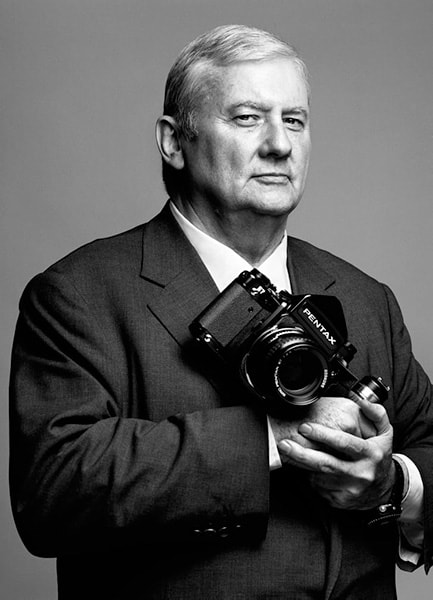 Terence Donovan Quotes
There's a lot of difference between an advertising photographer and a photographer. When I used to work for Elle magazine in France, the art director never told me what to do. You had to work it out for yourself. In Paris and there was Helmut Newton in one studio and Guy Bourdin in the other. They're photographers, man. They weren't nicking anything off of anybody. I watched Guy Bourdin and there's no more way I could take a photograph like Guy than fly…
When I first started, I thought that if I took enough frames, I'd get a good picture. Photographs are taken with the brain, the camera records it, but it's a meta-physical process because what happens in an image is beyond what you see. And the problem with amateurs is that they're too busy with the technical side. It's the head that makes pictures and the cameras record the thought. You've got to be able to read the images.
When you're young, you go on assignment, somebody steams into your pictures and it tears your guts out, you know. And you defend them. I don't defend my work, never again. I hope you like it, I've tried hard. I've tried my best but if you don't like it…
On Learning the Craft
I was a blockmaker, making printing plates and it taught me the fundamentals of exposure. On any film shoot, in any situation, within reason, I'm never more than a stop out. I can look at anybody's face and say, 1/30 at 2.8. And if I am out, it will be a stop over, which is always the right way to be. And that was all from that training.
You have to make it look easy when you're photographing people; have a dialogue going. You can't hide behind your camera. When I was 15, I was shy, so I used to make myself go up to people to photograph them. I'd do anything that frightened me. And now I say to young photographers, 'Don't try and sneak pictures on a 100mm lens, get a 35 on and walk up to them.'
I've tried to keep my eyes and ears open in my life, be a bit receptive. That's why I go and photograph where all those kids are dancing. It's interesting. Too many people of my age are too locked off. You can look old, but you don't have to be old. [Norman] Parkinson was 73 but he was not an old man, he was a wild man, sparky.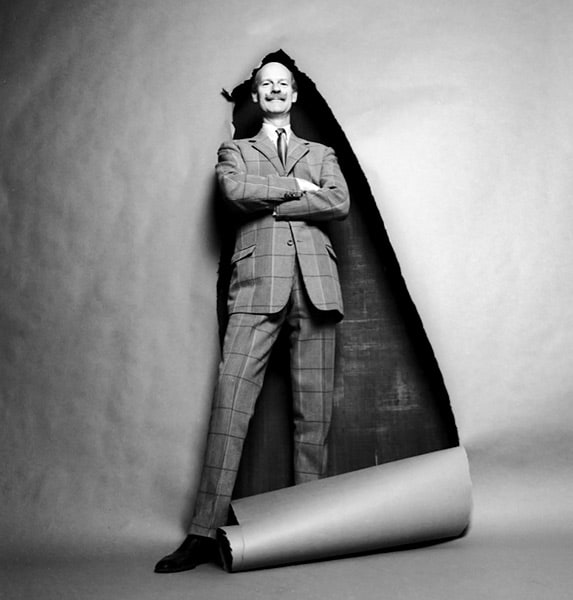 On Passion
My first darkroom was a cupboard and I couldn't afford a red light, so I used to have a bit of cloth handy and the cloth used to catch fire. But by God I wanted to do it.
Don't do it if you want to be famous. As long as people leave college and they don't want to buy a car out of photography, or don't want to get a flat in Mayfair, if they just want to be photographers… If they have passion and if they have got something to say, they'll make it.
It's always been a tough job, Cecil Beaton was a tough old boy, Parkinson was a tough old boy, Eve Arnold's a tough woman. Not a job for somebody light on bottle, I'll tell you, photography. Not when you think of what can go wrong.
You've got to try hard not to develop the vague notion you might be of some consequence. 'Cos if you manage that, you're free from the tyranny of it. You see that a million times, people that really think they've cracked it and then it comes slamming out of the woodwork at them. Judo teaches you that, some skinny little bloke you think, Oh, he's nothing and the next thing you're lying on your back. It's much more to do with the philosophy of life than anything to do with photography.
On Hard Work
I used to get up at eight o'clock, work in the studio from nine until seven at night, go out and have a bite, come back at nine, develop all the negatives of the day, contact them and go home at 1.30. That's how you learn how to do the job. You know what they say in the SAS, 'Train hard, fight easy'.
Photography is a militaristic operation; you've got to be organised. Most people aren't organised.
What you've got to understand about Bailey and me is, we were fantastically hard working. Bailey and I never wanted to be successful photographers. That wasn't the plot. We weren't ambitious, ever. We just wanted to do it.
Then a few weeks later I was at the Royal College of Art and after I'd studied their work in the morning, we had some lunch and then sat down to talk. And then a girl got up and I said, 'Where are you going?' And she said, 'To get coffee.' So, I said, 'You've just had lunch.' And then the German next to me said, 'Zis isn't ze military now you know.' And so I said, 'And you can f*ck off as well!' But do you see what that illustrates?"
On Art and Photography
Photography, for me, isn't art. It's specific. You can have things in photographs that are emotive, a crying child by a car crash or something, but that's not the photograph, that's the content that's emotive.
Because I paint and take photographs, I think photography is a craft because it doesn't attack you. That's why I don't have many exhibitions. I think exhibitions are quite dull, personally. I don't know why. I like photographs. I like looking at them but how many times have you come out of an exhibition and gone, Phew!?
When old Avedon had that exhibition of stuff, you know, 15 foot high prints, well it was just graphics to me, and the weakness of graphics is it's studied. Whereas if you look at a painting by Lucien Freud, skilled as it is, there's a bit of mad vibrancy about it all. Or Bacon, insanity on the paper, but I love it because I don't know where it came from and it mystifies me.
On Equipment
Serious musicians like to hear their music played on LP as opposed to CD. Whoever's in charge of the show upstairs, he's got a wicked sense of humour because as they give it to you, the progress and new ideas, they take something away. You know what I mean?
Amateur photographers have got a problem because they've got no reason to take a picture. They're kind of equipment junkies. When you look at a picture that Cartier-Bresson took on a 50mm…
You can't stop technology; you don't want to stop technology. But if you get one of these advanced modern cameras and you're photographing a girl in a black suit against a black background you'd better switch everything off and get out the meter and take a reading. If you don't do that, old love, you're snookered because most of those guys that design cameras, one thing they never do is use them.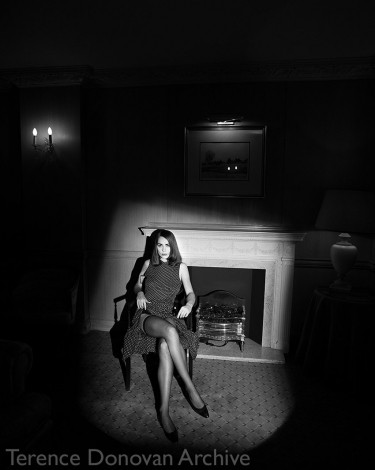 Other Resources
Recommended Terence Donovan Books
Disclaimer: Photogpedia is an Amazon Associate and earns from qualifying purchases.
Recommended Terence Donovan Videos
Afternoon Plus Interview, Thames TV, 1983
Terence Donovan – Speed of Light
Robert Palmer – Addicted to Love (1985)
Terence Donovan Photos
You can view more Terence Donovan Photos here and here
Further Reading
The Terence Donovan Archive
Speed of Light Exhibition Preview, Vogue
Terence Donovan, The Man Who Shot the Sixties, Herald Scotland
How Judo passion engulfed 'the man who shot the Sixties', CNN
Fact Check
With each Photographer profile post, we strive to be accurate and fair. If you see something that doesn't look right, then contact us and we'll update the post.
If anything is missing from the article or you would like to add something about Terence Donovan's work and life that will benefit readers then send us an email: hello(at)photogpedia.com
Support Photogpedia
If you've enjoyed the article or you've found it useful then we would be grateful if you could link back to us or share online through twitter or any other social media channel.
The website was put together so we can all learn from the masters that come before us. The more links we have to us, the easier it will be for others to find the website.
Finally, don't forget to subscribe to our monthly newsletter, and follow us on Instagram and Twitter.
Sources
Obituary: Terence Donovan, The Independent, 1996
Stars mourn `Orson Welles of photography', The Independent, November 1996
The Man Who Shot a Thousand Stars, The Telegraph, July 2012
Terence Donovan: the man who shot the sixties, Herald Scotland, November 2012
Addicted to Love: fashion's favourite video for 30 years, The Guardian, 2016
Terence Donovan: Speed Of Light Preview, Vogue, 2016
How Judo passion engulfed 'the man who shot the Sixties, CNN, 2017
Terence Donovan Archive
Terence Donovan: The Photographs, Little Brown, 2000
Portraits: Terence Donovan, Damiani, 2016
Afternoon Plus Interview, Thames TV, 1983
On Camera: Photographers at the BBC, 2018
The Real Blow Up: Fashion, Fame, and Photography in the '60s, BBC, 2002